Ingredients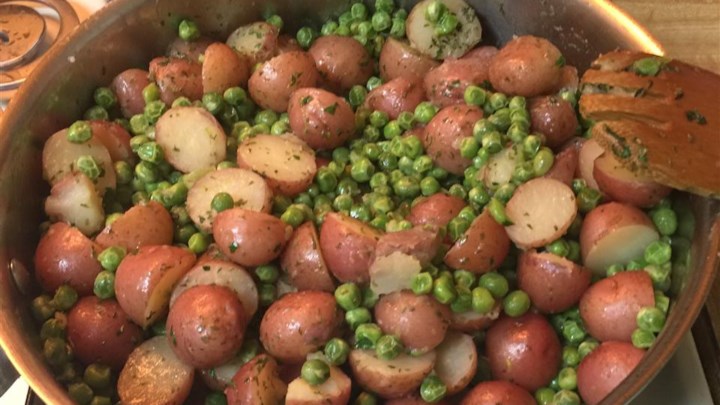 2 cups shelled fresh peas
3/4 pound new or red potatoes, unpeeled, cut into
1/2-inch cubes
2 tablespoons unsalted butter
1/2 cup low-sodium vegetable or chicken broth
1/2 teaspoon salt
1 tablespoon chopped fresh parsley
1 tablespoon thinly sliced fresh mint
Directions
1. Put peas in a bowl.
2. Place potatoes in a pot and cover with lightly salted cold water. Bring to a boil; cook until crisp-tender, 1 to 2 minutes. Drain, pouring enough hot cooking liquid over peas to cover. Let peas stand 30 seconds, then drain and rinse peas under cold water.
3. Melt butter in a large skillet over high heat. Add peas, potatoes, broth, and salt. Cook, stirring, until liquid reduces to a glaze, 5 to 7 minutes.
4. Stir in parsley and mint.
http://allrecipes.com/